Den nye Round Series fra VOLA vandt 4 priser ved Plus X Award.
Bedst indenfor Innovation, Design, Funktionalitet og Best Product of the Year 2011.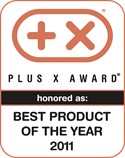 Plus X award er blandt verdens største innovationspriser indenfor teknologi, sport og livsstil, og juryen består af ca. 130 brancheeksperter og fagjournalister fra 32 nationer. Kriterierne, de udvalgte produkter bedømmes ud fra, er bl.a. innovation, kvalitet, design, betjeningskomfort, funktionalitet, ergonomi og bæredygtighed.
Plus X Award Hall of fame >>